Congratulations to all the participants in the Memorial Day Melt Away!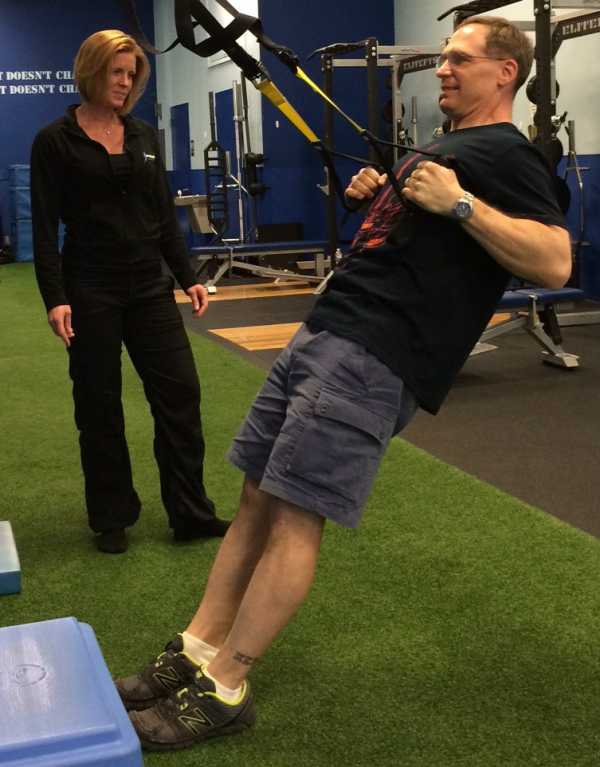 Trainer Julia Marrone coaches first place male winner Mark LaRochelle through his workout during the Memorial Day Melt Away Program in Shore Results
As others were gearing up for the Memorial Day holiday weekend celebrations, our Memorial Day Melt Away participants were planning their final weigh-ins and body composition checks! Talk about dedication.
After a total of 6 weeks of hard work, the participants that seriously stuck with their eating and exercise plan saw the benefits of their efforts. Congratulations to our prize winners:
$1000 was awarded to both the male and the female category winners:
Mark LaRochelle and Melissa Fariello
And a special mention to our second place female winner … Cindy Good … who was awarded a special consolation prize!
Great Job Everyone!
Top Females:
1) Melissa Fariello
2) Cindy Good
3) Holly Akers
4) Alissa Lazicki
Top Males:
1) Mark LaRochelle
2) Bill Zengel
3) Andy Taffin
4) Michael Bell
Congratulations to the entire Memorial Day Melt Away participant group for all their hard work and efforts. So many of the individuals reached personal goals, improved their health and are feeling great for the beach!
Our next program is the Jeans Challenge which kicks off on September 16th! If you are interested in our ongoing programs, visit the Jeans Challenge page, or call the gym at 732.872.6595 or see a member of our staff for details. You do not need to wait until September to begin your program!! Get results over the summer with a 3 month all-inclusive program. The best part is that the results are guaranteed!