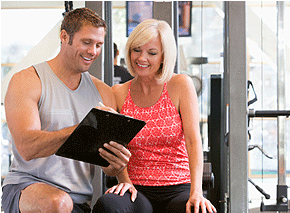 We are proud to announce that we are now offering an all-inclusive training program here at Eastpointe Health & Fitness. We promise that this program will be a unique training experience unlike any you may have had in the past.
Traditional Personal Training has always been centered on only your appointment with your trainer and has offered little to no outside support on what to do on other days during the week. And no matter how good of a workout you are getting that one time a week with your trainer, I think we can all admit one workout a week is not going to cut it. We also understand that it is hard to financially justify hiring a trainer to meet with you three times per week. So we have come up with a solution that shifts the focus away from just on your hour workout with your trainer and back where it belongs… YOU and YOUR results!
Ok so what do you get…??
Obviously we are all individuals with different goals and different injuries and one program that may be great for you may not be great for another. This is why each program starts with a detailed evaluation with one of our fitness coaches. During this evaluation we will discuss your health and fitness goals and perform a movement screening to help us design a program that is right for you that will not only help you lose fat but help prevent injury and get you moving better.
Each month you will receive 4 intensive semi-private coaching sessions with one of our fitness coaches who will teach and help motivate you through your program. These sessions are yours to use as you wish, however most have opted to use them once a week to keep a regular schedule. While our base memberships include 4 sessions you may also purchase additional sessions if you would like a bit more coaching throughout the month.
Perhaps the most valuable piece of the membership is the unlimited coaching that you receive any other time that you are in the gym. What this means for you is that you can come in to the gym at any time and there will always be a coach available to answer any questions or help you with any exercises you may be having trouble with on your program.
The final piece to getting the results that you are looking for is a sound nutrition plan. All members of the all-inclusive training membership receive a thirty minute consultation with our nutritionist, Kim, to get set up on a basic nutrition plan. You will receive a journal to log your meals in, which you can bring in to each session to be reviewed.
So to recap here is what is included in our All-Inclusive Training Program:
Complete Fitness Evaluation with one of our Coaches ($149 value)
An Individualized Program specifically designed to you and your goals. (Updated every 4-6 weeks)
4 Intensive Semi-Private Coaching Sessions per Month (1 per week)
UNLIMTED In-Gym Coaching even when you are not in for your session.
Plus your regular gym membership is INCLUDED!
The cost of the program is paid monthly and includes your basic gym membership:
3 Month Program is $357/month.
12 Month Program is $257/month.
Additional sessions can be purchased at 4 for $200.
For more information, or if you are ready to get started… schedule a FREE consult today! Call 732-872-6595 or complete the form on the right to book your FREE Consultation.