Results from Eastpointe Health & Fitness' Fall Session of Real Results!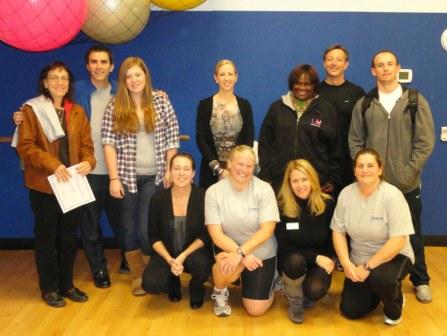 On September 28th, 13 (thirteen) members began a journey toward health by joining Eastpointe Health & Fitness' All-Inclusive Health Program. The participants completed their final assessments this week and the results are in!
Each participant worked very hard to make improvements to their exercise and nutrition habits. Trainers worked with them in several teams where they received the benefits of semi-private personal training. In addition participants followed their individual customized programs designed by the training team. They attended ongoing nutritional discussion sessions, weekly motivational meetings and lectures all designed to help each individual achieve personal goals and lifestyle changes.
The biggest loser for total pounds, inches lost as well as the largest drop in body fat was Cass Ferrigno. Holly Nixon was the runner up for total pounds lost and Chris O'Neil was the runner up for total inches lost.
Congratulations to the winners and everyone who participated in Real Results!
Start the New Year off Right!
The next program begins on January 9th and space is limited. Interested? Want to get started? Register for your free consultation today by going on our website and submitting an inquiry on the nutrition page or giving us a call. For a full description of the Real Results program including future dates and a complete list of what is included, call or visit our Real Results page.