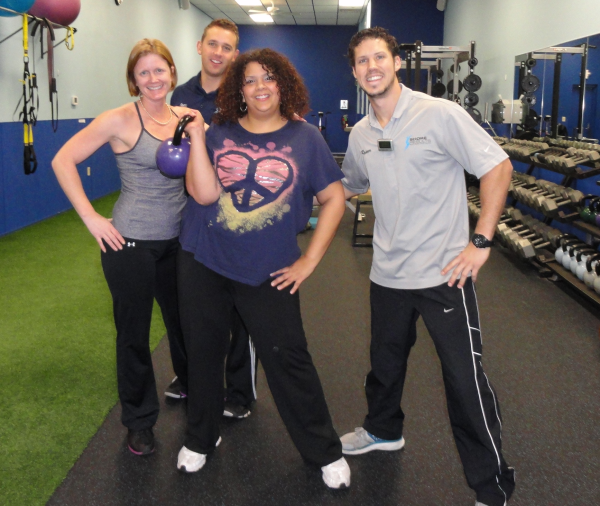 Photo: From left Julia Marrone, Trainer; Matt Douglas, Training Intern; Miranda Hanafy, Jeans Challenge Participant; Rainer Robertson.
By Kim Garrity, Nutritionist
It was a busy Labor Day weekend when the postcard advertisement arrived at Miranda's home. Her summer had been filled with lots of fun events including BBQs, parties and lazy days at the beach but it was perfect timing for a healthy change!
"I had been thinking about making a commitment to change" Miranda reflected "It came at a great time; I had been living it up all summer and I remember calling all of my friends to get their support but I had already made up my mind!" Miranda made the call to Eastpointe Health and Fitness; Shore Results and she is thrilled with the results.
Shore Results' new Jeans Challenge program was launched in September. It is a comprehensive approach to battle those extra pounds that may have crept up over time. 20 people were selected to participate in a challenge to drop 2 jeans sizes in 8 weeks.
The Journey Begins!
Miranda jumped in full-force with a positive attitude and lots of energy! "My main goal was to use the program as a spring-board to start my weight loss." However, Miranda now feels that she has learned so much during the program that she will be able to incorporate these things easily into her everyday life. "After all, this is my life; this is what it is all about! I was given some fantastic lifetime tools that I have grown accustomed too and will continue to use."
One of the most important factors in Miranda's success was the support. "I can not say enough about the program and the staff. It is different than any facility I have ever been to. They really care about me and it comes across. The staff call when I do not come in, there is a great energy when I get there. I honestly love to be there!"
During the ongoing nutrition meetings participants discuss obstacles to success. This program had an obstacle never encountered before during one of our programs – Hurricane Sandy. Although our participants, staff and facility were impacted, we are happy to report the group is back on track and will be trying on their jeans on November 25th!
Are YOU up for the Challenge?!!
Our Next 8 week Shore Results program Starts in (mid to late) January! Full program details will be announced soon. If you are interested in hearing more please let us know by calling the gym at 732.872.6595 or complete the form on our January Challenge page to request more information.